Maximizing Your Job Search: Insights from Andronica Klaas, Meta Engineer
Published on
March 06, 2023
Want to maximize your chances of landing a job in the tech industry? In this article, Andronica Klaas from Meta shares insights on how you can land a job on Taylor Desseyn's Guidance Counselor 2.0!
---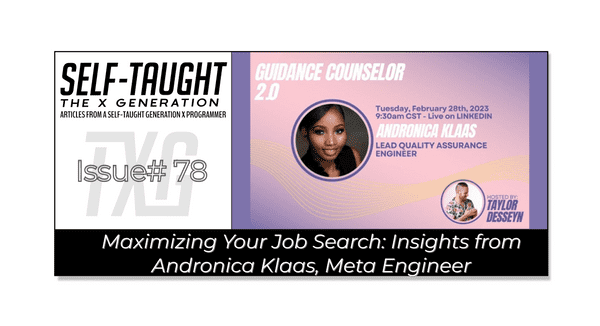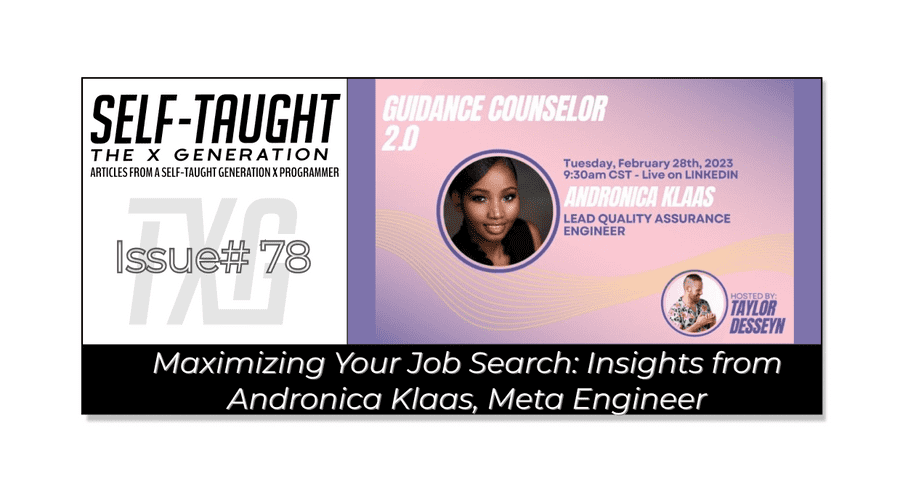 ---
Introduction
Are you searching for a job in the tech industry? Would you like guidance to help you navigate the complexities of the job search? Look no further than Taylor Desseyn's Guidance Counselor 2.0!
In this Livestream series, Taylor invites top industry experts to share their insights and answer your questions. Many attendees have found mentors, new jobs, and valuable connections through these events!
In this Guidance Counselor 2.0 Livestream, Andronica Klaas, a meta engineer who has successfully navigated the job search process, shares tips and tricks on how we can enter the tech industry job force!
---
Guidance Counselor 2.0
Taylor brings to our attention that although we had access to guidance counselors in school, as working adults, we no longer have this valuable resource available to us.
With his show Guidance Counselor 2.0, he intends to fulfill this need, providing us with a FREE valuable resource by bringing in the best and brightest industry experts for Livestream events, which gives us a chance to learn from them and to have our questions answered!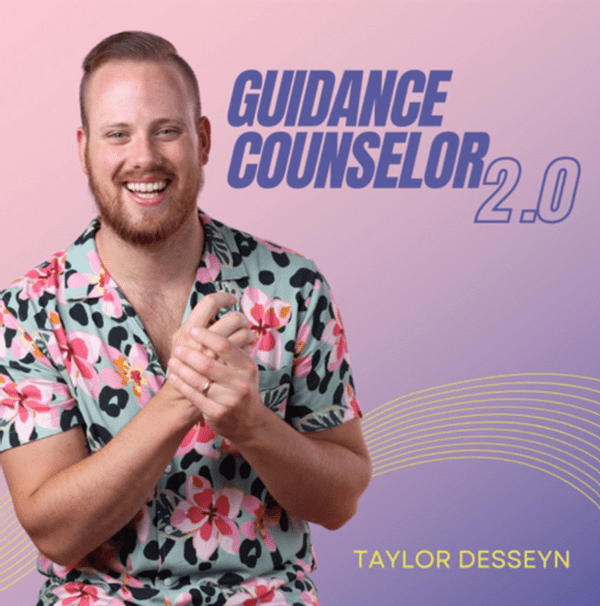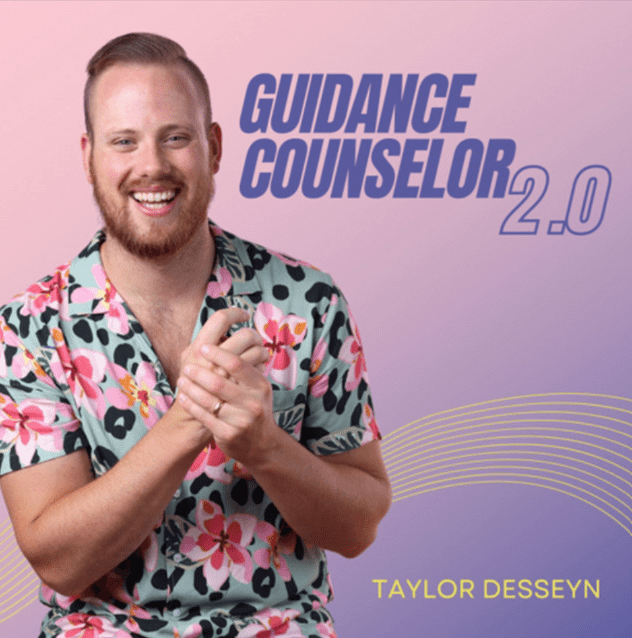 ---
Andronica Klaas
Andronica Klass is a Lead Quality Assurance Engineer at Meta, who leads a team that supports compliance and privacy across the Meta family of apps. She graduated from Johnson C. Smith University with a Bachelor of Science Degree in Computer Science Information Systems.
Born and raised in South Africa, Andronica attended The Oprah Winfrey Leadership Academy for Girls, which instills empowerment in women.
She also advocates for women in tech, helping them gain confidence and belonging through conference talks as a keynote speaker. Andronica has also worked with Discover E, helping thousands of women worldwide through uplifting conversations that help them persevere and thrive in their careers.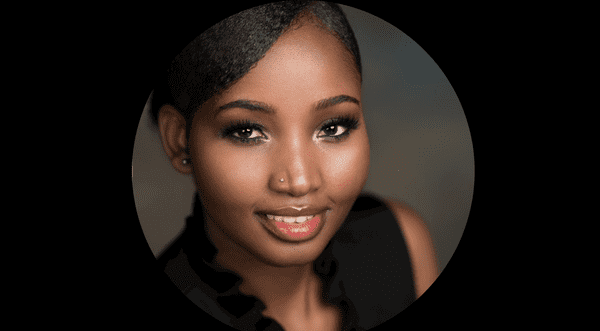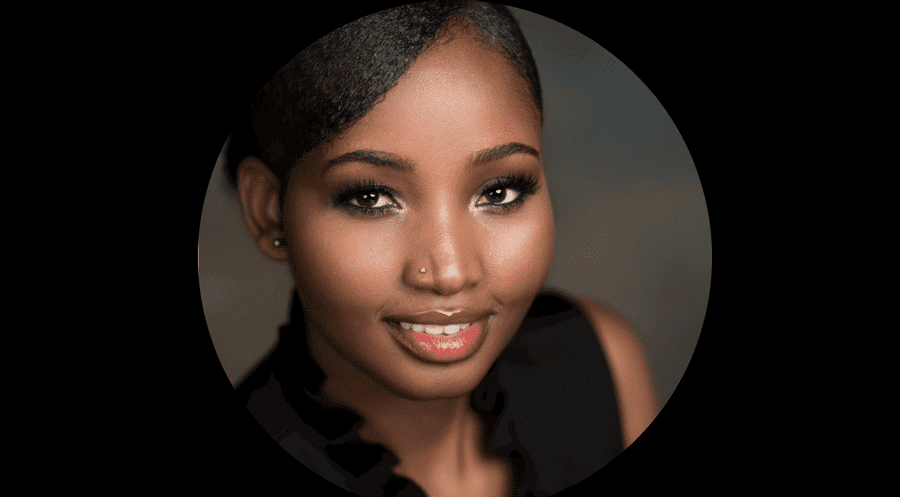 ---
Alternatives to becoming a web developer
Did you know that the tech industry offers a wide range of job roles beyond the commonly known position of Front-End Web Developer?
Andronica suggests that we match our strengths and interests with the job role requirements to determine the career path we should take. For example, Andronica found her calling in Q&A.
Other alternatives to web developers include:
Quality Assurance (QA)
Business Analysis (BA)
Project Management (PM)
Data Analysis
User Experience (UX) Design
Technical Writing
Cybersecurity
Identifying which job role aligns with our strengths and interests early on can greatly assist us in navigating our career and job search, ultimately helping us to land our first job in tech!
---
Tip: Andronica: "knowing what you don't like is just as important as knowing what you do like." This will greatly assist in discovering your best career option.
---
Tailor your resume
To increase your chances of landing the job, it's important to tailor your resume to the job description. Look closely at the requirements and customize your resume to show how you meet them.
If you don't meet all the requirements, don't worry! This method is an excellent way to help you identify the skills you need to learn to become eligible for the job.
Andronica also recommends seeking help from various sources to improve your resume, such as your school, online tools, paid services, and even recruiters like Taylor Desseyn! Don't be afraid to ask for feedback and suggestions to make your resume stand out.
---
Tip: Know your current market value! Andronica informs us that when we are employed by the same company, we will only receive standard percentage raises as time passes, even though we may be worth much more!
---
Internships
Andronica explains to us that internships are a valuable opportunity to gain insight into a company's culture and determine if it's a good fit for us.
They also provide a chance to develop skills not taught in schools or coding boot camps, such as:
Soft skills
Working with management
Collaborating with coworkers
Taking on internship roles lets us preview the job and understand the skills required to succeed and advance in the field. Overall, internships are a great way for us to gain practical experience and set ourselves up for success in our future careers.
---
Networking
When it comes to networking, Andronica explains that it's important to know your intentions before you start.
Your intentions may include
Seeking a sponsor
Seeking a mentor
Enlarging your community
Or other purposes
Knowing your intentions will help you develop a targeted strategy for initiating conversations with others and making the most of your networking opportunities.
Another important point that Andronica emphasizes is that networking is not all about you! It's important to understand what you can offer others, not just what they can offer you. Networking is a mutually two-way street, and building relationships requires giving as well as receiving. To maximize your networking opportunities, build genuine connections with others and find ways to add value to their lives and careers.
---
Personal branding
Personal branding is not exclusive to the famous! Andronica implores the importance of personal branding for job seekers and how we can achieve it.
Creating a personal brand for yourself is important as it can provide others with knowledge and proof of your skills and capabilities before they meet you. It can also make you recognizable, providing others with a more comfortable way to initiate networking with you.
You can develop your personal brand by:
Learning in public
Sharing your journey on social networks
Becoming a content creator
A good method of building a personal brand is consistency, not only with content creation methods. For example, when Andronica attends conferences, she dresses fashionably, making her recognizable!
You may find my following related article helpful: The Importance of Learning in Public
---
---
Tips and Tricks of the Job Search from a Meta Engineer w/Andronica Klaas
---
Conferences
Before attending a conference, Andronica advises us to familiarize ourselves with all the speakers beforehand. With this tactic, if we get an opportunity to meet them personally, it portrays that you are genuinely interested in them.
Another great piece of advice Andronica provides is to have a list of predetermined questions, making it easier for us to start and maintain conversations.
List of questions may include
Ask others how they got hired/role
If you were my age, what would you do differently
If you were my age, what advice what you give
When conversing with others, be attentive! Listen to what others have to say with curiosity, and be flexible in allowing the conversation to lead itself. Through experience, Andronica has learned that people like to talk about themselves, so keep that in mind to help you to keep the conversations going!
Networking can be intimidating, and it's important to accept that there may be some successes and some setbacks along the way. However, Andronica emphasizes the importance of persevering and continuing to network while also reflecting on ways to improve.
One of the best ways to improve is by reaching out to others frequently:
In-person at events
On Twitter
On LinkedIn
Other social networks
You may find my following article helpful: Amazing Conferences for Developers in 2023
---
Twitter
During the Livestream, Andronica shares how she used Twitter to network and find career-advancing opportunities; she learned about the Magnolia tech conference through Twitter and attended the event, which led to her being featured on Taylor Desseyn's Guidance Counselor 2.0 show.
Andronica's experience highlights the power of networking on Twitter and how it can lead to unexpected opportunities! In my personal experience, sharing my articles and networking on Twitter led to my first pay in tech!
If you want to engage on Twitter and meet like-minded people, here are some tips she provides:
Observing how people converse
Take part in the conversations you're observing
Sharing what you learn as you learn it
Asking questions ( career, technical, or personal)
Observing how people converse
Observing how people converse on Twitter to get a sense of the community and the topics they discuss.
Take part in the conversations you're observing
Taking part in the conversations you're observing by sharing your thoughts, insights, and experiences can help you establish yourself as a thought leader and build your personal brand.
Sharing what you learn as you learn it
Sharing what you learn can include articles, blog posts, or other resources that you find interesting or helpful. This can help you establish yourself as a valuable member of the community.
Asking questions ( career, technical, or personal)
Asking questions can help you build relationships and expand your network. But it's important to remember that networking is a two-way street! Be sure to give and not just receive.
Through engagement with others and by providing value, you can gain genuine connections that may potentially lead to career-advancing opportunities for you!
---
LinkedIn
Andronica emphasizes the importance of researching a company's culture and job roles when looking for employment. By finding and reading through a company's LinkedIn profile, we can learn a lot about its values, mission, and work environment.
Additionally, LinkedIn allows us to see who works at the company, which presents us with an opportunity to connect with them and gain insight into their experiences. Andronica uses this method to reach out to people in a company she is interested in and schedules time to discuss the job roles that interest her.
To ensure that she doesn't waste anyone's time, she has a template of questions prepared, which includes:
Why I'm reaching out to you
What I want to learn from you
If they are interested, she leaves her contact information
In addition to networking with individuals on LinkedIn, Andronica also recommends using the platform as a source of valuable content to learn from. She explains that we can learn by searching keywords to reveal related articles on the network. Additionally, LinkedIn also offers courses that award you certificates upon completion!
---
Tip: Andronica advises us that in-person networking is great, but networking on social media platforms is also advantageous!
---
Build relationships with recruiters
Andronica brings to our attention a very valuable point in building relationships with recruiters, even if you are currently employed. In doing so, you can periodically contact them to determine your position's current market value! As discussed earlier, when you reside in the same company, you will only receive standard percentage raises as the years go by, even if you are worth more!
Most importantly, by building relationships with recruiters, if you find yourself in a position when you need a job, you will already have created a valuable resource for yourself!
---
To learn more about building relationships with recruiters, you may find my related article helpful: Taylor Desseyn on leveraging recruiters to land a job in tech
---
Andronica's links
---
Taylor's links
---
Conclusion
To discover which profession best suits you, align your skills and interests with job roles. Also, knowing what you don't like is just as important as knowing what you do like is essential in this process.
Learning if you are a good fit for a company is also essential, and internships are a great way to learn about a company's culture. You will have an opportunity to gain experience not attainable in schools or coding boot camps, such as working with peers and soft skills.
Tailoring your resume for each job you apply for will give you a better chance of getting an interview and can reveal what additional skills you need to fulfill the job role.
Networking with others is a great way to open up job opportunities for yourself! You can network in person at schools, conferences, and other events. Additionally, your can network online with services such as Twitter and LinkedIn.
Finally, building relationships with recruiters is a great way to know your current market value and provide you with a valuable resource if you are in immediate need of a new job!
---
Let's connect! I'm active on LinkedIn and Twitter.
---
Are you now confident in maximizing your job search? Have you already landed a job and have additional tips to add? Please share the article and comment!